Our Distinctive Features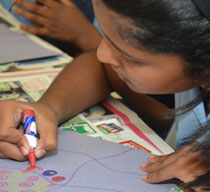 The offering of an education where the curriculum is designed to be sound in its academia as well as a biblical perspective. We are probably one of the few Christian schools who strive towards this.
While we are a Christian School children of other faiths, different racial and cultural backgrounds are welcomed.
One of our fundamental goals is to raise future prophets, priests and kings. We are equipping "Daniels"in a Babylonian society.
Our weekly assembly is a unique feature.It is our family time where staff and pupils meet for an hour to praise and worship God and to learn from the Word of God as well as to reflect on the previous week. We start each new year with an anointing service where the Senior Pastors of the church anoint every learner at our school.
When a learner is injured or has misbehaved teachers are expected to pray and counsel the learners as well as attend to them. Praise and worship and devotions with the form teacher are part of registration in the morning. Learners learn a scripture a week and start each lesson declaring this scripture. Learners greet their teachers with the following greeting: "I am blessed and anointed and filled with the power of God."
STAFF
All our staff are Christians, are suitably qualified for their positions and registered with SACE.