Aftercare
The atmosphere in our aftercare session is caring, relaxed and fun. A home away home environment for those children who spend a longer day at school. During the aftercare session the children are divided into three groups.
Grade N + R
Grade 1 -3
Grade 4-9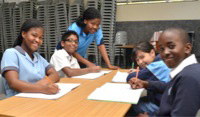 All children from Grade N-2 participate in drawing, colouring, cutting or other fine motor/ craft/ creative activities, as well as supervised outdoor play and story time.
Grade R-9 has homework session included in the afternoon.
There is no aftercare during school holidays.
Hours
From after school with two exit times: 2pm and 5pm. Aftercare fees are additional and not included in the school fees. Fee structure policy available on the enrolment form.
Casuals
Aftercare is primarily a service for working parents however casuals will be accommodated at a cost to the parent, which will be billed from the time they are in aftercare to the time they leave.
Clothes
Aftercare clothes are to be sent with your child everyday so that they are able to change after school. This will prevent their school clothes getting dirty and messy from the jungle gym ,creative work and outdoor activities.
Menu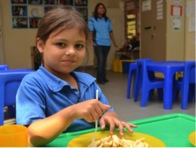 | | |
| --- | --- |
| Monday | Hotdogs and juice |
| Tuesday | Cheese ,ham or chicken mayo sandwiches with fruit and juice |
| Wednesday | Macaroni mince and cheese and juice |
| Thursday | Beans, Vienna and bread with fruit and juice |
| Friday | Hamburgers and juice |
What does aftercare offer
A safe and Godly environment
Personal Development and Growth
A home away from home environment
Organised and structured timetable
Social and outdoor activities
Encourages
Fun and enjoyment
Building character and discipline
Social awareness and interaction
Teamwork, Sportmanship and leadership
Positive, active and healthy lifestyle
Support, appraisal and recognition system
Aftercare activities