Kingdom Tots ( 2 years old)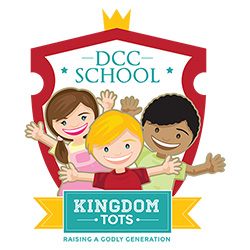 We are proud to announce the opening of our new phase for our 2-3 year olds: Kingdom Tots in 2015. This new phase is differentiated by age: Turning 2 before 30 June, and 3 if born between 1 July and 31 December.
At DCCS, we understand how important the early years of a child's life is. This is a time of remarkable growth, when children are experiencing rapid development, learning new skills, and progressing steadily towards physical, intellectual, and social-emotional milestones. Our mission is to impart a Christ-centered education which would form a foundation for each learner to integrate effectively into this generation.
Our school readiness program is filled with investigation, exploration and discovery. The curriculum creates a developmentally appropriate learning environment that empowers preschool children to be confident, successful, lifelong learners.
The school boasts an attractive learning environment which includes interactive learning with a smart board and computers. The above activities are balanced with a challenging and adventurous outdoor play centre which will enhances large muscle development and incorporates sensopathic materials, sand and water play to assist with the total development of the child. Language Arts, Mathematical skills, Life skills and Bible Studies as well as sensory awareness forms the bases of the curriculum.
Learners will also be involved in extra-murals such as Playball, Ballet and Hip-hop and Swimming.
Pre Primary
Grade Nursery (3-4 -year-olds)
Grades R (5-6-year-olds)
The curriculum in the preschool is eclectic and diverse. It uses different programmes that have been tried and tested. The main emphasis is on learning through play and self experimentation. We develop the child in all areas, physically, cognitively, emotionally and spiritually. The Pre-Primary Curriculum is centered on a holistic approach to teaching and learning.
It is in keeping with the Curriculum and Assessment Policy Statement (CAPS) and is child orientated. The lesson programmes are designed to promote all aspects of child development. Music and library lessons are offered, as well as computer lessons for Grade Nursery and Grade R, and P.E. (with the sports coach) is incorporated in Grade R. The thematic approach in varying degrees of difficulty, is implemented in the different classes. School excursions are planned once a term.
A calendar of both academics and cultural events is drawn up and given to learners every term. Praise and worship and morning devotions start the day. Learners are taught scriptures on an ongoing basis. Learners also enjoy the weekly assembly which bonds the entire school as a family.
Pre-Primary : Extra Curricular
Rhythmic Gymnastics
Sports by Garvs Academy
Chess
Music
Drama by Centre Stage Productions
Dance
Swimming
Pre-Primary : Extra Mural
Dance by Angela School of Dance
Pottery